Miniature Schnauzer Daisy
Miniature Schnauzer Daisy
We have add this wonderful girl Daisy to our breeding program. 
Some of the puppies Daisy has produced, off to your right ! Salt n Pepper, Black, Salt n Pepper Parti and Black Parti, Daisy has had some really beautiful pups!
Daisy and Theodore have upcoming puppies in August, get your deposit in on these beautiful babies!
Miniature Schnauzer Daisy
All about Daisy
Daisy is our black pari girl, she weighs 13.9 lbs. Daisy has a regular coat type. 

Juels Rocky Mountain Schnauzers
Our girl Daisy
Daisy is a sweet girl with lots of personality, she is a little on the shy side but very loving with everyone. Daisy gets along very good with all the other schnauzers. She is quite the eater loves to eat and her treats are her favorite time of the day! Daisy is the best vacuum cleaner you could ask for! She has captured our hearts with her gentle spirit and sweet loving personality. We can't say enough about Daisy !! She has been a great addition to our family.

She has a love for her people, this is what makes her such a special little lady. Daisy's compassion for her people is amazing, she just loves her people and goes out of her way to please you!!
Daisy has her basic obedience training, she is a smart girl. Daisy loves to play with her stuffed toys. She will lay on your lap and snuggle you for as long as you will let her. Daisy is a forever companion. She loves kids and is just always a happy girl, you can't help but smile at this girls wonderful personality. Daisy is so delightful. We are looking forward to seeing how beautiful Daisy's second liter of puppies will be, she is bred to Theodore!
Miniature Schnauzer Breeder
All of our puppies come with a heath checks from our certified veterinarian.
All puppies-dogs come with their updated vaccinations and dewormed, done by our licensed veterinarian.
Tails docked no later then 5 days after born!
We also have a care package and care information that goes home with each puppy !! 
Our Schnauzers are bred in health, demeanor, trainability and conformation.

We handle our puppies ever day it makes them healthier then puppies left by their self in kennels all day!! :/
We also start dog door training and crate training at 7-8 weeks of age.
We don't recommend special dog foods and or vitamins to get our guarantee!
Read more about our guarantee on our health guarantee page!

Therapy/Companion
puppies
Hand Raised with love
Bred with Integrity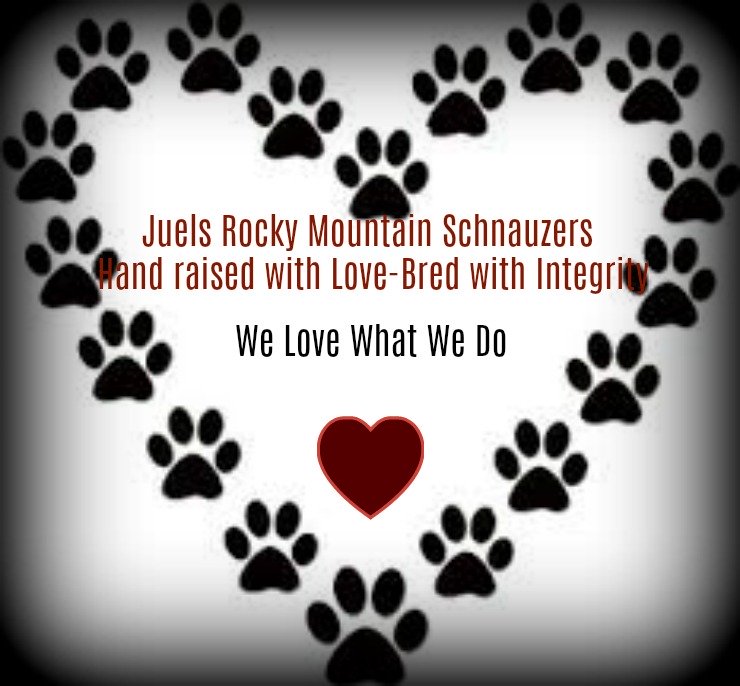 Please contact for more information
 307-247-2913
Miniature Schnauzer breeders
Juel Benson All Rights Reserved Copyright 2019