Schnauzer Puppy 1
We have new puppies arriving soon
jwyoschnauzers@gmail.com
Deposit and Payment information
Schnauzer Puppies

We take pride in our puppies-dogs and guarantee the best health possible! 

All of our puppies come with a heath check from our certified veterinarian and we don't give our own vaccination our certified veterinarian give our puppies their first vaccines! 

Our puppies come socialized. Handled everyday loved and played with. We want our puppies to leave our home well socialized to the world around them. It's important to us that the puppies have a easy transition from us to you and your home to become a forever companion.
Don't hesitate to welcome one of our beautiful miniature babies into your life, you won't regret it!

Tails docked

Dew clews removed

Bath, groomed and nails cliped.

First haircut

 All age appropriate vaccinations and de-worming by a licensed veterinarian.

Care package
Pet puppies come with a birth certificate.
Puppies bought with breed rights come with pre registration papers.

1 pound of Royal Canin puppy food recommended by my veterinarian! favorite rope toy, puppy treats, favorite blanket, puppy shampoo and puppy collar.
Puppy schedule and information on health and some training tips!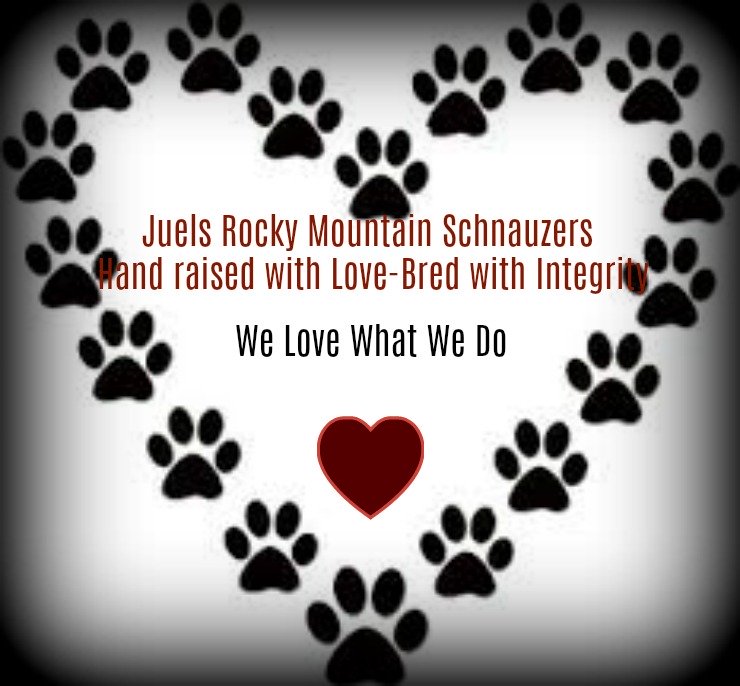 Please contact me for more information
Juels Rocky Mountain schnauzers
Thanks you Juel Benson
307-247-2913
Location Casper, Wyoming.

jwyoschnauzers@gmail.com
Juel Benson All Rights Reserved Copyright 2019