Miniature schnauzer breeders
Our Schnauzers are Established in Health.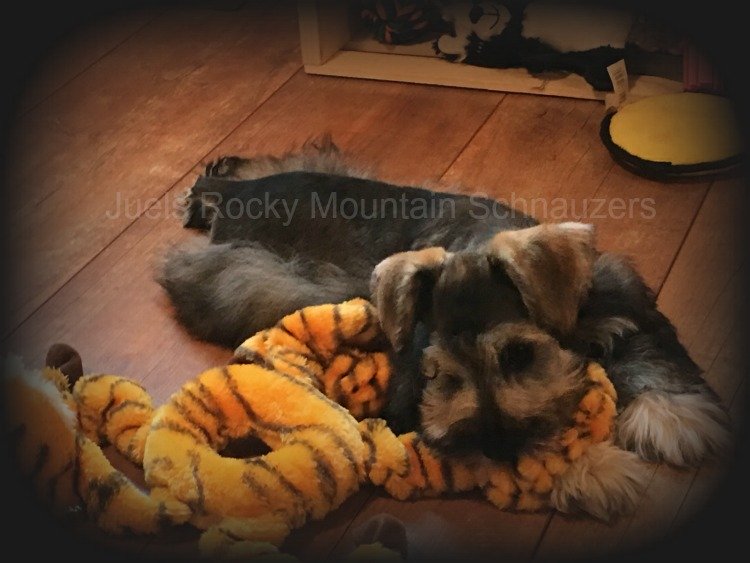 Miniature schnauzer breeders

Visit my Puppies Available page for more information 

---
About us

Hi, I am Juel Benson Owner of Juels Rocky Mountain Schnauzers. Miniature schnauzer breeders. I produce high quality Miniature schnauzers, Miniature Toy schnauzers, Miniature Teacup schnauzer. I'm tremendously proud of this incredible Schnauzer breed, and are highly focused on producing a limited number of whelping per year to maintain the high standard we have established for our Schnauzers!
Miniature schnauzers breeders 
juelsrockymountainschnauzers.com

Feel free to call anytime-307-247-2913

I have been a breeder for 15 years ! I raise American Kennel Club (AKC) schnauzers with health. My schnauzers have come from other awesome breeders like Lucky 7 Schnauzers so I can pass on great health and personalities to these darling schnauzer puppies! 

The Miniature schnauzer has a very Regal look

The Miniature schnauzers is very intelligent

Their family loyalty is amazing!

The Miniature schnauzer is on the top of the non Hypoallergenic dog list!



I produce a variety of miniature schnauzer colors Chocolate (Liver), Black and Silver, Salt and Pepper, Black, Liver Pepper, and all these come in the Parti colors. My sizes come in Miniature teacup 3-6 pounds, Miniature toy 7-9 pounds and Miniature 10-20 pounds! I love raising these beautiful babies (puppies) so I can offer them to other family's.

We also Guarantee your miniature schnauzer puppy to have a Super coat/Mega coat. all our teacups and Toy schnauzers have Mega coats. We have a two year guarantee and you don't have to order special vitamins or puppy foods to receive it! That's what sets us apart from other breeders.

Miniature Toy and Teacup.
Miniature schnauzers breeders

---
I breed miniature, Teacup and Toy schnauzers for quality not quantity which sets us apart from so many other breeders!
We hand raise all of our puppies!
I don't buy schnauzers already raised by another breeder!
Health is very important to us!
We breed the best in health, conformation and temperament.
These are all important genetics.

We hand pick all of our puppies

I keep my prices reasonable!
We want everyone to enjoy these wonderful, lovable Miniature, Teacup and Toy schnauzers babies.
Schnauzers! Friend for life!

---
What beautiful companion's and Therapy dogs the minature schnauzer is for everyone!
Miniature schnauzer breeder

Take a look at our puppies Available-for sale page! 
Each one of our breeding dogs have their own page!

Miniature schnauzers breeders 

 Please do you research on the schnauzer breed before buying one of these beautiful puppies! 
It will help you to know exactly what your getting, so there's know surprises.  
We breed with integrity!
 Quality not Quantity!
Check out our links.
Our links on our pages are highlighted.

welcome to my family, come on in and enjoy a little Schnauzer time with us! I'm sure that you will find these darlings as wonderful as we do. We wants to thank you for your visit to our site.
(Schnauzer breeders of Wyoming).

AKC miniature schnauzer please click the link for more information

Contact us today for more information, or to reserve your puppy!
Please call 307-247-2913 or Email jwyoschnauzers@gmail.com
juelsrockymountainschnauzers.com
Juel Benson All Rights Reserved Copyright 2008 - 2018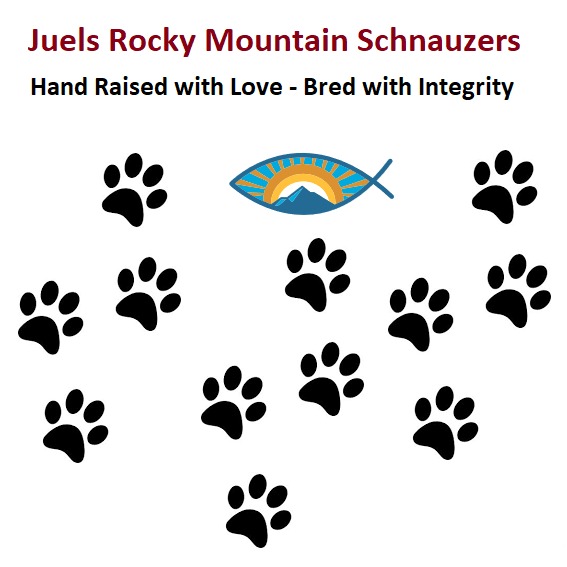 Miniature schnauzer breeders