Miniature Schnauzer Puppies Available
Miniature Schnauzer Puppies Available
Miniature Schnauzer Puppies Available
We specialize in Miniature, Toy and Teacup Schnauzers. Our available puppies are below. These beautiful schnauzer Puppies are available in a variety of colors, sizes and coat types!
Miniature Schnauzer Puppies Available
for sale
Therapy/Companion Pets
Miniature Schnauzer Puppies Available
Vella and Theodore's puppies have arrived!! 4 girls and 1 boy!
October 18, 2019.

Don't miss out on these beautiful babies!!! Companion/Therapy
Vella's puppies will be ready for their new forever homes December 15, 2019
We have 2 girls available!
Meet Elena she is Available!

Elena is black with lots of white on her chest and stomach, all white paws.
She has a mega coat. 
Elena's estimated size 8 to 11 pounds
Elena price is $1800

---
---
Meet Anna she is Available!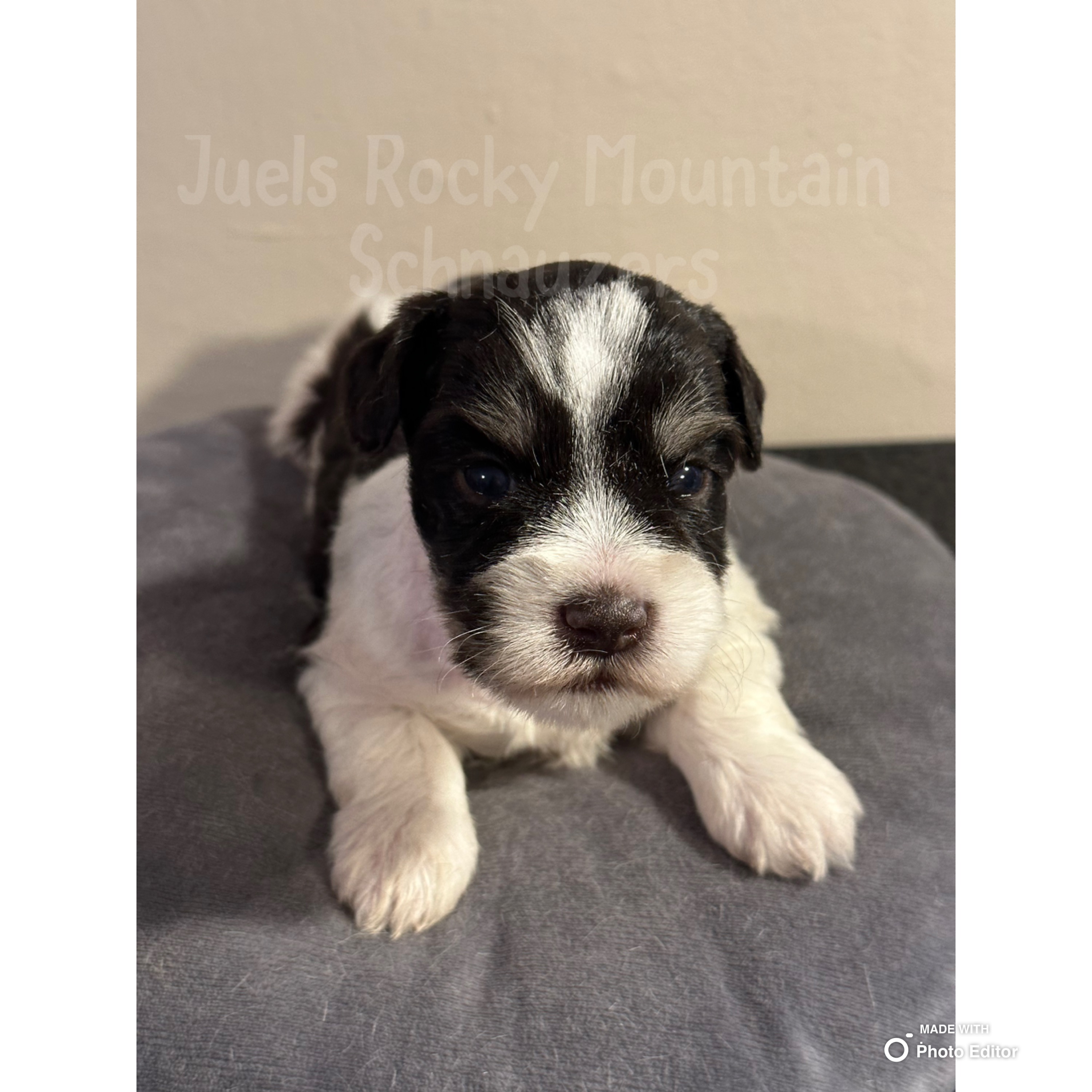 Anna is black with a little white on her chest and stomach, and all white paws!
She has a mega coat,
Anna is small at this point.
Anna's price is $2000

---
---
These Puppies below are Sold, Pending Sale or On Hold.

Bitzy is Pending Sale !

Small Toy-Teacup girl

Thank you Gail Darnell
Keenesburg, Co.
Bitzy price $2500

---
---
 Roxie is Pending sale

Estimated size 8 to 11 pounds
Thank you Jack Hinchman
Great falls, MT
Roxie price is $1950 

---
---
Doc is Pending Sale !

Doc estimated 7 to 10 pounds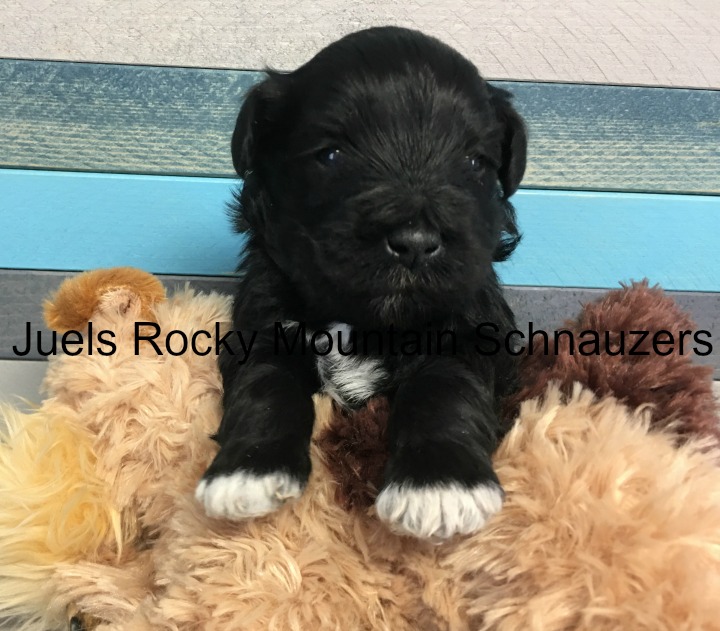 Thank you
W. Blair and Norene Foulger
Powell, Wyoming
Doc's price is $1950

---
---
We love what we do
Miniature schnauzer breeders

Hand delivered with love!

Our puppies come socialized. Handled everyday loved and played with. We want our puppies to leave our home well socialized to the world around them. It's important to us that your puppy has a easy transition from us to you and your home to become a forever companion.
Don't hesitate to welcome one of our beautiful miniature babies into your life, you won't regret it!

---
Miniature Schnauzer Puppies Available
Schnauzer Puppies Payment and Deposits Information

Miniature, Toy and Teacup Schnauzer Puppies Available

Juels Rocky Mountain Schnauzers

---
Schnauzer Puppies

We take pride in our puppies-dogs and guarantee the best health possible! All of our puppies come with a heath check from our certified veterinarian. 

We don't crop ears!

---
Schnauzer Breeders
What to expect when you receive your schnauzer puppy
Puppies come home with
Tails docked

Dew clews removed

Bath, groomed and nails cliped.

First haircut

 All age appropriate vaccinations and de-worming, done by our licensed veterinarian.

P

re registration papers come with puppies with breed rights only.

Pet companion puppies come with Birth Certificates. 
Puppies are all of the same quality!

Puppies Care package
1 pound of Royal Canin Puppy Food Recommended by my Veterinarian!
Favorite Toy.
Puppy Treats.
Favorite Blanket.
Puppy Shampoo.  
Puppy Collar.
Puppy schedule and information on health and some training tips!

---
Miniature Schnauzer information
 We do use Royal Canin here at our kennel recommended by our veterinarian and have had great Health in our schnauzers and beautiful coats!! We also give our dogs a daily Vitamin that was recommended by our veterinarian. We use ( Only Natural Ultimate Daily Vitamin Bites Complete Wellness Formula) (Veterinarian Formulated) Support for Joints, Skin & Coat, Digestive Health and Vitality. We want what's best for your puppy or dog please consult with your veterinarian before making these decisions.

---
Our Schnauzers are bred in health, demeanor, trainability and conformation.

 Schnauzer breeders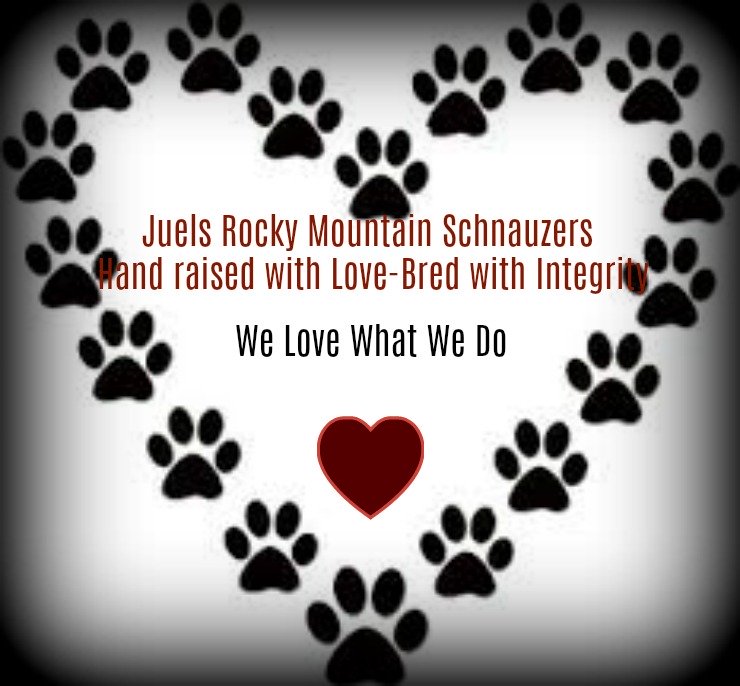 Please contact me for more information
Juels Rocky Mountain schnauzers
Thanks you Juel Benson
307-247-2913
Location Casper, Wyoming.

jwyoschnauzers@gmail.com
Juel Benson All Rights Reserved Copyright 2019