Miniature Schnauzer Puppies Available
Miniature Schnauzer Puppies Available
Miniature Schnauzer Puppies Available
We specialize in Miniature, Toy and Teacup Schnauzers. Our available puppies are below. These beautiful schnauzer Puppies are available in a variety of colors, sizes, all have Mega coats!!
Miniature Schnauzer Puppies Available
for sale
Therapy/Companion Pets
Miniature Schnauzer Puppies Available
---
Don't miss out on these beautiful babies!!! Companion/Therapy

---
---
---
---
---
New upcoming puppies 2022!!
Eva and Titus due June 5
Laverne and Titus due June 9
Cheri and Theodore due June 11 
Aspen and Elliot due June 15
Rebel and Titus date pending
Lucy and Titus Date pending
---
Vella and Theodore's puppies arrived
May 24, 2022
2 boys and 2 girls
I will be contacting people on my deposit list in about a week or so!
---
---
These Puppies below are Sold, Pending or On Hold.

Lila and Theodore Puppies arrived March 6,2022
These puppies will be ready for their forever family May 1-2
Meet Toby
Liver and tan 
Estimated size is toy 
Sold
Thank you
Jeff Handson
---
---
Meet Byrdie
She is liver and tan
Sold
Thank you, Mary Wert
From Lewistown, MT
---
---
Sophie and Theodore's puppies arrived February 10th.These babies will be ready for their families 
 April 8-9
Meet Barkley-Ollie is Sold
He is liver and tan
Estimated size toy 
Thank you, Trina Mills
Gillette, Wyo
---
---
Meet Ace, he is liver and white
estimated size toy
Sold
Thank you
Stephanie Woods
Las Vegas, NV
---
---
Our deposit list in order
1.Carla Jilek Deposit male black and silver       
2. Candra and Donald Hansen Deposit 2 females       
3. Mike Birdsley deposit male
4.Joseph and Elizabeth Magenheim deposit female
5.Mary Campbell deposit female
6.Shelli Nelson deposit female
7.Judy Clark deposit female
8.Tess Barnes Deposit female
9.Trina Mills Deposit male /female
10.Rick Jakel Deposit male
11.Connie Nordberg Deposit male
12.Chanin Wilson Deposit female liver and tan
We love what we do
Miniature schnauzer breeders

Our puppies come socialized. Handled everyday loved and played with. We want our puppies to leave our home well socialized to the world around them. It's important to us that your puppy has an easy transition from us to you and your home to become a forever companion.
Don't hesitate to welcome one of our beautiful miniature babies into your life, you won't regret it!

We don't recommend special dog foods and or vitamins to get our guarantee!
We have recently changed our dog food to Purina Pro Plan we haven't been able to get Royal Canin! Purina Pro Plan is recommended by AKC, it's one of the top dog foods, so far, we love it!  Please consult with your veterinarian before making these decisions
Read about our guarantee on our health guarantee page!

---
Miniature Schnauzer Puppies Available
Schnauzer Puppies Payment and Deposits Information

Miniature, Toy and Teacup Schnauzer Puppies Available

Juels Rocky Mountain Schnauzers

---
Schnauzer Puppies

We take pride in our puppies-dogs and guarantee the best health possible! All of our puppies come with a heath check from our certified veterinarian. 

We do not crop ears!

---
Schnauzer Breeders
What to expect when you receive your schnauzer puppy
Puppies come home with
Tails docked

Dew clews removed

Bathed, groomed and nails clipped.

First haircut

 All age-appropriate vaccinations and de-worming, done by our licensed veterinarian.

AKC Preregistration

 papers come with puppies with breed rights only.

Pet companion puppies come with Birth Certificates. 

Puppies are all of the same quality!



Puppies Care package
Your puppy will be eating Purina Pro Plan chicken, small, bred puppy food. Recommended By Our Veterinarian!
We you pick your puppy up you will receive a care package
Sample of Purina Pro Plan chicken, small, bred puppy food.
Favorite Toy.
Puppy Treats.
Favorite Blanket.
Puppy Shampoo.  
Puppy collar.
Puppy schedule and information on health and some training tips!

---
Miniature Schnauzer information
---
Our Schnauzers are bred in health, demeanor, trainability and conformation
We love what we do! (Schnauzers)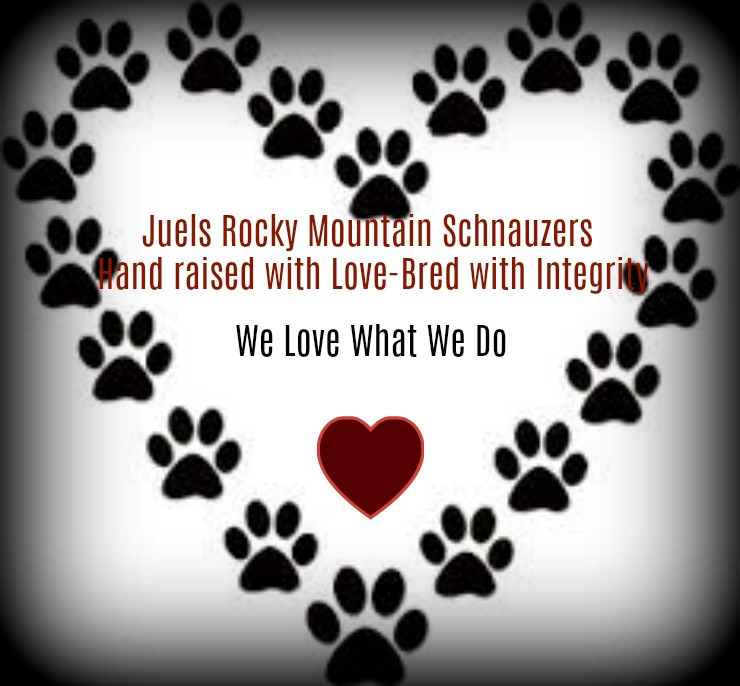 Please contact me for more information
Juels Rocky Mountain schnauzers
Thanks, you Juel Benson
307-247-2913
Location Casper, Wyoming.

jwyoschnauzers@gmail.com
Juel Benson All Rights Reserved Copyright 2022