Miniature Schnauzer Dads
Learn about our Schnauzer Dads

Miniature Schnauzer Dads
These are our dads.
Our Dads are very important to us, we hand pick them and hand raise them!
Our Dads are fun loving and outgoing with lots of personality.

We raise all our dogs from puppies. We feel it is very important to know each and every dog's personality and health, so we can produce healthy happy puppies!
It's very important that we pass on good health to our puppies! 

We are dedicated to bringing the best Puppies possible to our customers!
We love what we do!
Miniature Schnauzer Dads
We limit our quantity to assure quality!

Come on in and take a look at our Dad's They are awesome boy's. Click the blue links below to find out more about our Dads.

Meet Theodore
Theo is liver, he has a mega coat
He weighs 8.5 pounds
Look at those eyes, he has captured our hearts! Theo is a little doll, so happy and loves everyone! He is so smart, he knows how to get his way, with those eyes! Theodore is loved by everyone who meets him.
Theo is AKC
Theodore has sired some beautiful puppies!
---
Meet Titus
Titus weighs 10.2 pounds and is Black and Silver Parti
Titus has a Mega Coat non-faded
Titus is a character; he is fun loving and not much bothers him. He loves playing with his toys and you can bet when he disappears, he is off playing with a toy! We just love this guy!! 
Titus is AKC
Titus's puppies are turning out wonderful!
---
---
Meet our new boy Tye
Ty weighs 7.6 lb. He has a mega coat; he is black and silver.
Ty is a delight; very sweet and loves to play with his toys and the other dogs!
Ty loves everyone that will snuggle him and pick him up. We are so excited to add him to our breeding program
Ty is AKC
---
---
We have Hand selected our Schnauzer Dads carefully from our liters or other responsible breeder!  We feel it's very important to not just breed any dog. We look for confirmation, personality and most important health. Our breeding dogs are all hand raised by us.

We are dedicated to bringing the best Puppies possible to our customers!
We love what we do! (Schnauzers)

Schnauzer Puppies Health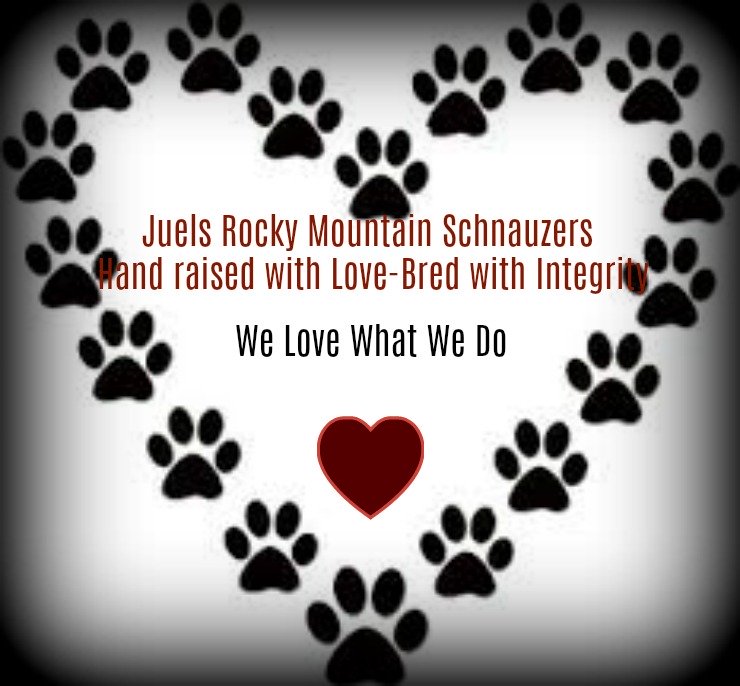 Thank you for visiting our dad's page!

Please contact me if you have any questions about our Dads
 jwyoschnauzers@gmail.com or call any time 307-247-2913

Juel Benson All Rights Reserved Copyright 2022