Schnauzer information
Schnauzer information personality, growth, size, coat colors and coat types!
Schnauzer information
Schnauzer Breeders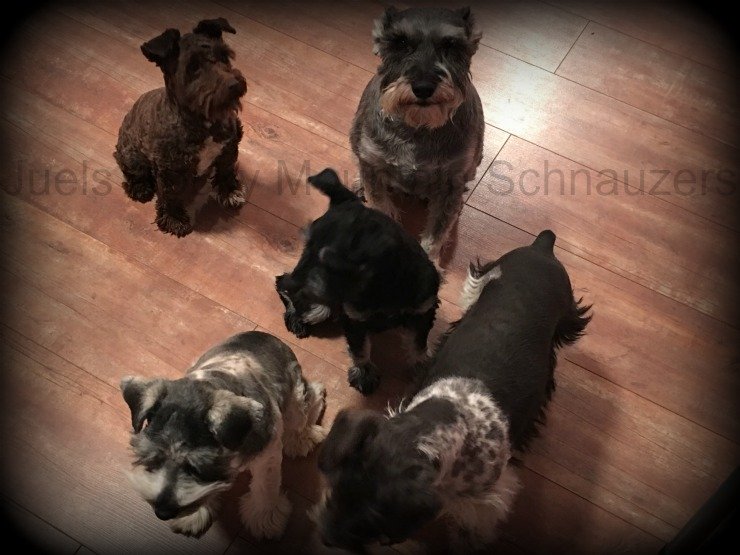 Schnauzers Personality
The schnauzer breed is hardy, smart, and get's along well with children.
The schnauzer was developed as a small farm dog, used as a ratter. Their size (12-14 inches at the withers) it has made them adaptable to small city live, but they can still be in the country and cover a lot of ground with out trying.
As a rule the schnauzer is not a fighter but he will stand up for his self if needed.
The schnauzer is seldom addicted to wandering, they love their family and home and also do very well as a guard dog alarm.
The schnauzer has good health and very good temperament. 

---
Schnauzer Information on Growth
They believe that the Schnauzers Grows until they are about 1 1/2 years old most of their height comes in the first 9 months of age after that it is tissue and muscle mass.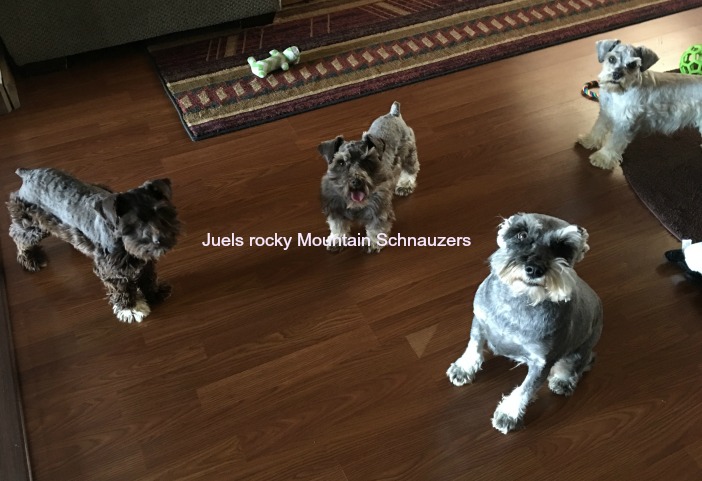 ---
juelsrockymountainschnauzers.com
Schnauzer sizes
T-cup 3-6 pounds
Toy 7-10 pounds
Miniature 11-24 pounds

---
Schnauzers Different Coat-Hair Types
Regular coats have a wire feel to them not very soft.
Super coat is a little thicker and feels soft.
Mega coats are very thick and very soft!

---
Schnauzer Breeders Of Wyoming
---
Schnauzer Training and Research
We would like our buyer to research the schnauzer breed it's always helpful to know the back ground of the Schnauzer Breed. It will also help you with the schnauzer training and obedience. Schnauzers are beautiful animals with lots of intelligence but can be a little stubborn like any other breed. We have some helpful links on our website to help you with your research. Our schnauzers are registered A.K.C. Please feel free to ask questions that is part of being a good breeder.  

Animals have different Personalities
Animals have different personalities just like people. As a breeder I can tell by the time puppies are around 6-8 weeks old a little about personality which will help me and you to choose the right puppy for your family.

It's best not to get a puppy under the age of 8-9 weeks and that's with all breeds. Some breeder want to tell you other wise but not true it also helps with their health to be with siblings. We have been puppy breeders for 15 years and also breed Angus cows. Puppies-dogs all have different personality! Please make sure you let me know what your looking for. We will do our best to place the right puppies with his or her forever family!

Schnauzer Breeder
Hand Raised with Love - Bred with Integrity

Contact information for juelsrockymountainschnauzers.com

307-247-2913
Thank you for visiting
Juel Benson