Schnauzer Testimonies and Pictures
Schnauzer Testimonies and Pictures

Juvel
Hi Juel, we want to thank you so much for our beautiful Juvel, she is a snuggle bug with such a sweet outgoing personality. Juvel is full of energy and LOVES to PLAY! You did a great job of socializing Juvel, she loves everyone that comes to our house, which is so nice. Juvel loves playing in the snow, it been such fun watching her root around and popping her head backup, all covered in snow, looking at us, as if to say; come look at what I found" Makes us laugh! Thank you for having such hight standards for all of your dogs and how you handle and take care of them. It shows in the beautiful baby we now have, thanks to you! it's been a real pleasure working with you and we thank for all of the help you gave us!
Sincerely Lynn, Date 2/24/22
---
---
Buddy and Normy
My name is Chip Slafter and I'm a schnauzer lover! They are smart, inquisitive, brave, extremely loving, kind and handsome. They are loyal, companionable, and very beautiful. I did some research before deciding upon Juels Rocky Mountain Schnauzers and glad I did. There are a lot of disreputable breeders out there. Juel is not one of those. Juel is reputable and trusted breeder. If you're looking for healthy, emotionally and physically sound puppy, you can rest assure that with Juels Rocky Mountain Schnauzers, you will get a healthy, loving puppy, ready for all the life and love you can share. They are very clean, eager for your warmth and love, well socialized, and happy when they come to you. They are not withdrawn or frightened. Of particular note the is the veterinary medical health check expected by Juel, shortly after purchase which only further attest to the high standards of their well-being. Juel will work with you to help you find your best friend, she is knowledgeable, patient, and informative. You can place your trust in her and Juels Rocky Mountain Schnauzers!
Thank you for my wonderful boy-puppies
Chip Slafter
Date 4/21/22
---
---
Danner
Dear Juel, I cannot thank you enough for our precious Danner! He is a real lover boy. He barks when he needs to go potty most of the time so that's been a dream for a pup. He is really smart and laid back! He is in love with my granddaughter, and she says she's, his mother. Everyone that sees Danner commends on his soft fur and his rich brown coat and his charming personality! You can tell how much you love what you do by your high standards you achieve. I appreciate you always being willing to answer any question I have and your helpful hints you have given us. Our vet has been very impressed also. You have been a blessing to us. 
Sincerely, Carla Jilek 
Date 8/25/21
---
---
Sophie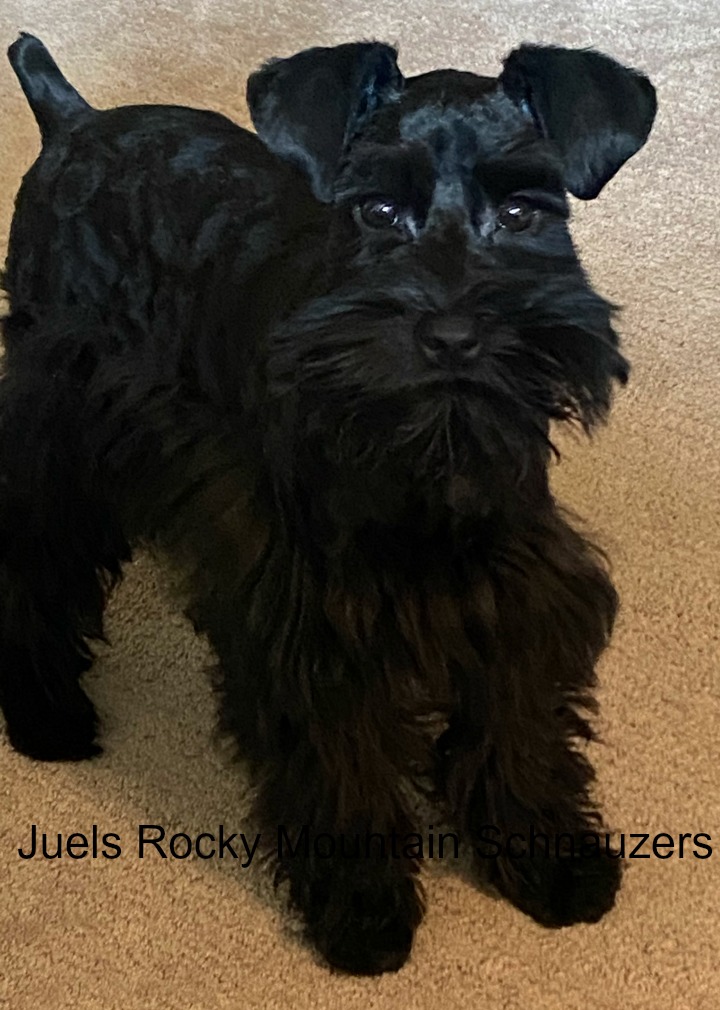 Hi Juel, I can't thank you enough for holding Sophie for us when we had to make a last minute trip to Arizona. She was a wonderful gift upon our return. You knew she would be a good fit for Bob and I and you were right! She is our ninth mini schnauzer and I think we saved the best for last.
She loves people, the outdoor, her soft little stuffed animals and snow! She is a pure black bundle of energy and love. All our neighbors love her and from day one, she slept through the night with out one whisper. You did a out standing job of kennel training. I have recommended you to sevral neighbors and friends and I have to restrain from checking out your website for fear I will fall in love with another schnauzer puppy!
Thank you for being a very competent, passionate breeder.
Caryn and Bob Loew
---
---
Teddy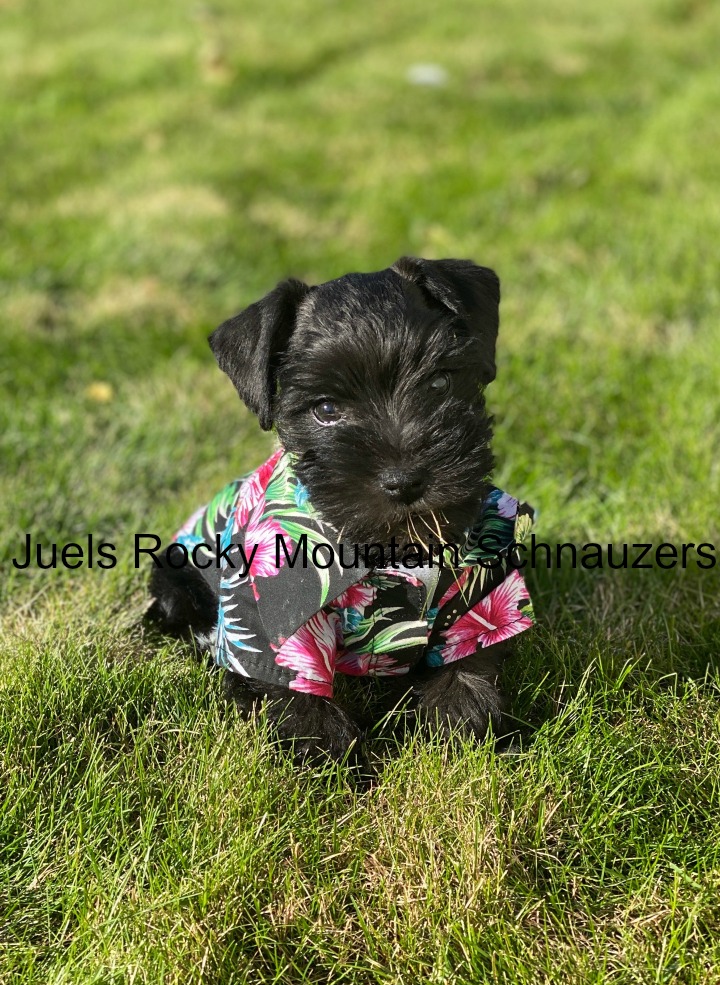 Teddy
Love him, He's calm and hasn't cried at all. He plays and loves everyone he meets. He was so socialized from his Juels Rocky Mountain family!!
Thanks Carlotta

---
---
Tony
He's so sweet! Thank you!!! You just filled a big hole that was missing in our family!!
Tony is doing great, so far no accidents and sleeps through the night. 
Thank you so much Abby!
---
---
BaGo and Bella
both from Juels Schnauzers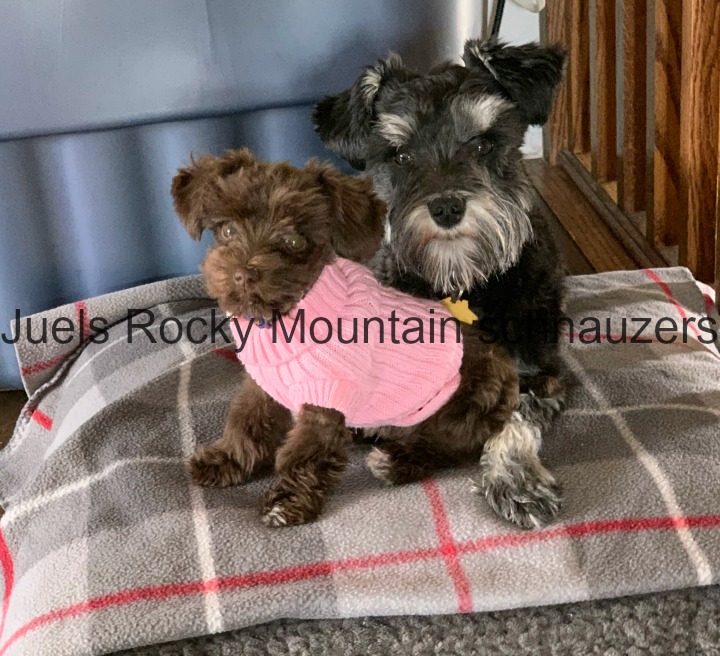 Hi Juel, I had been thinking I need to send a update. Bella is doing great! She just had her check up at the vets last week. Bella is right on 2 lbs , vet said she is health but small. As small as Bella is  she can go up both flight of stair with out a problem, going down is another thing altogether. Bella is really beautiful, she is sweet and she thinks she is as big as BaGo!! We absolutely love her she's full of surprises.
Thank you Cathy
---
---
Oscar
---
---
---
---
Buddy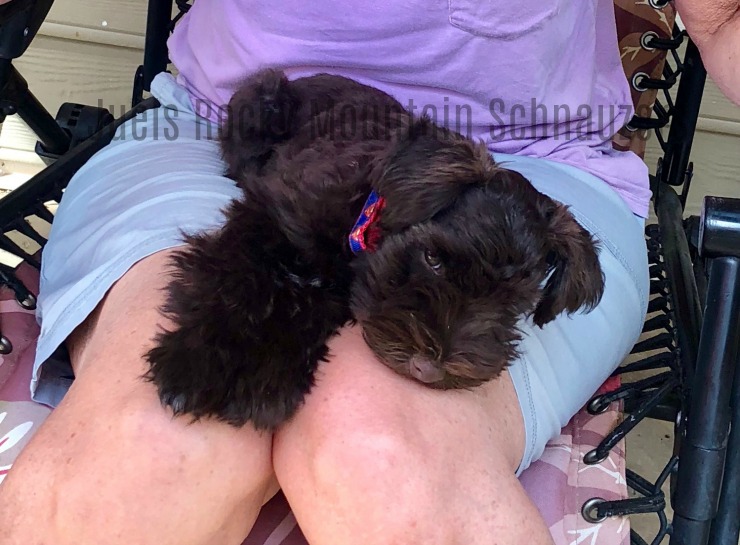 ---
---
Buk and Rue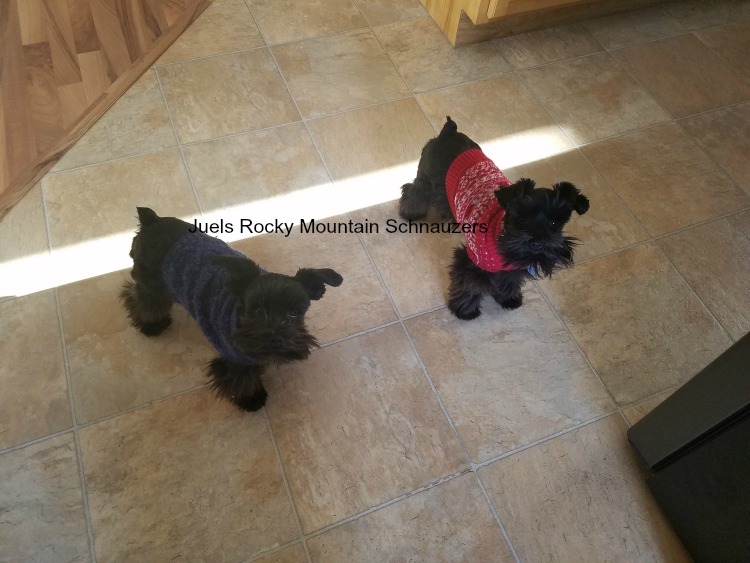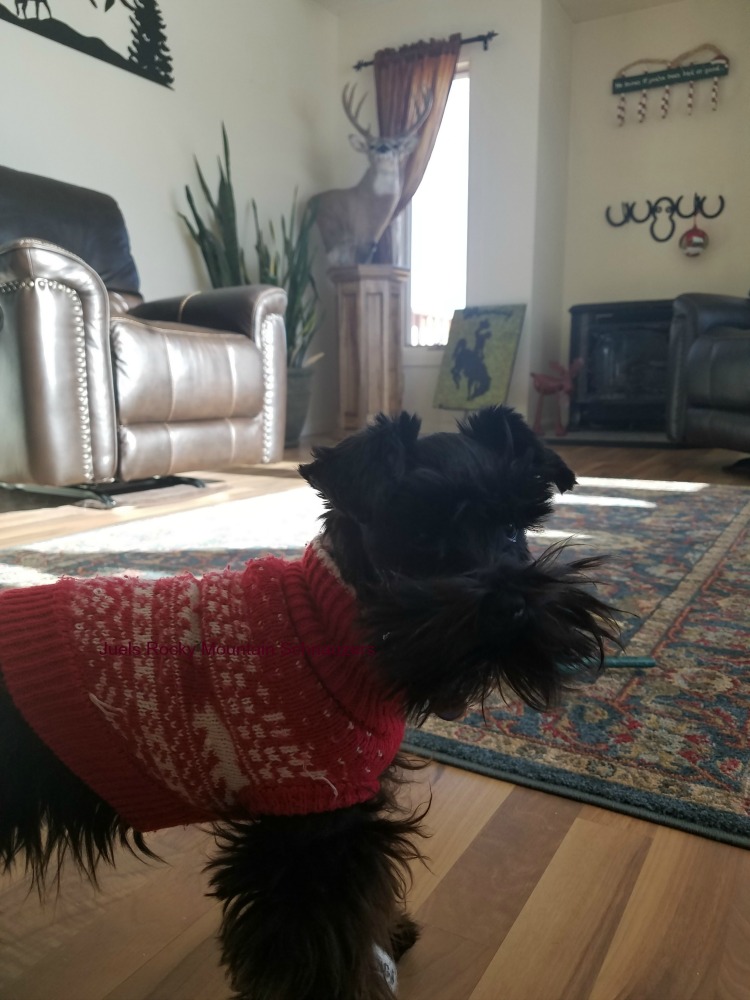 Schnauzer Testimonies and pictures
---
Schnauzers Testimonies and Pictures
Miniature Schnauzer Breeders

---
---