Schnauzer Testimonies and Pictures
Schnauzer Testimonies and Pictures

Hi Juel , just letting you know Guinness is doing great. If Guinness is an indication of your dogs, you should be proud!!
Thank you Scott Mills
---
---
Sophie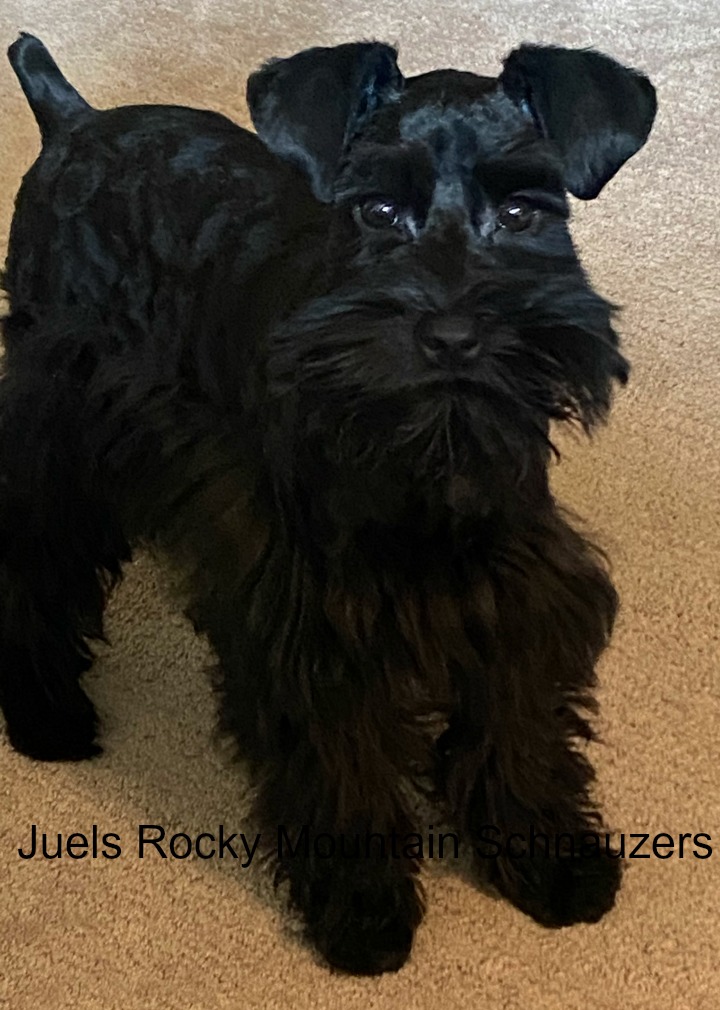 Hi Juel, I can't thank you enough for holding Sophie for us when we had to make a last minute trip to Arizona. She was a wonderful gift upon our return. You knew she would be a good fit for Bob and I and you were right! She is our ninth mini schnauzer and I think we saved the best for last.
She loves people, the outdoor, her soft little stuffed animals and snow! She is a pure black bundle of energy and love. All our neighbors love her and from day one, she slept through the night with out one whisper. You did a out standing job of kennel training. I have recommended you to sevral neighbors and friends and I have to restrain from checking out your website for fear I will fall in love with another schnauzer puppy!
Thank you for being a very competent, passionate breeder.
Caryn and Bob Loew
---
---
Teddy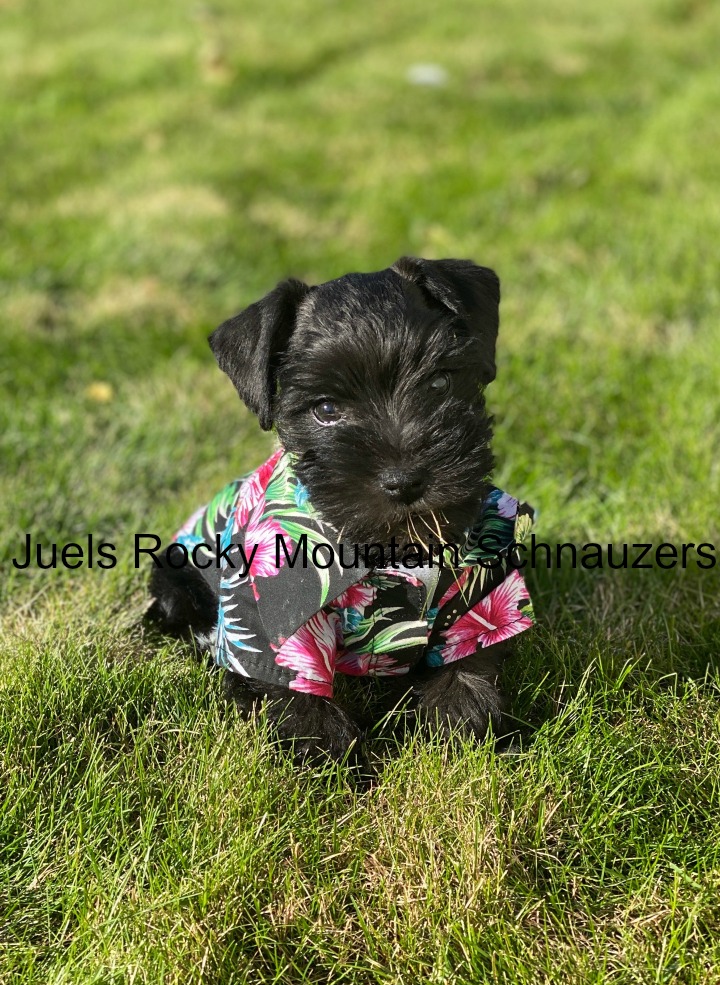 Teddy
Love him, He's calm and hasn't cried at all. He plays and loves everyone he meets. He was so socialized from his Juels Rocky Mountain family!!
Thanks Carlotta

---
---
Tony
He's so sweet! Thank you!!! You just filled a big hole that was missing in our family!!
Tony is doing great, so far no accidents and sleeps through the night. 
Thank you so much Abby!
---
Nala
---
Paisley
Hi Juel, We wanted to let you know how blessed we are to have miss paisley in our lives! She is such a sweet, happy and spunky girl, she loves the outdoors and plays in the water. Paisley has brought so much joy and entertainment to our lives. We definitely recommend you to anyone looking for a schnauzer pups! We can't thank you enough!!
Karla and Cory Wolff
---
---
BaGo and Bella
both from Juels Schnauzers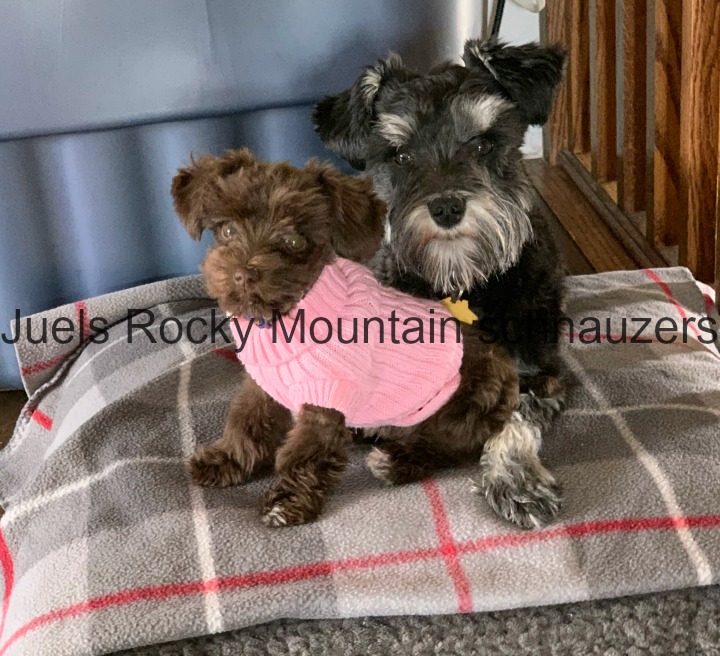 Hi Juel, I had been thinking I need to send a update. Bella is doing great! She just had her check up at the vets last week. Bella is right on 2 lbs , vet said she is health but small. As small as Bella is  she can go up both flight of stair with out a problem, going down is another thing altogether. Bella is really beautiful, she is sweet and she thinks she is as big as BaGo!! We absolutely love her she's full of surprises.
Thank you Cathy
---
---
Oscar
Hi Juel,
I couldn't ask for a better breeder. We were very specific on what we wanted and you delivered. You kept us in the loop with your litters, let us know when there was a chocolate puppy born as well we communicating any additional costs.
The care package that came home with our puppy was perfect.
Oscar is a wonderful addition to our family. He has gotten along well with all of our other pets and is very loved. Oscar is a lover and brings joy to our home. We will definitely use you again for our next schnauzer.
Thank you the Moore family
---
---
Murphy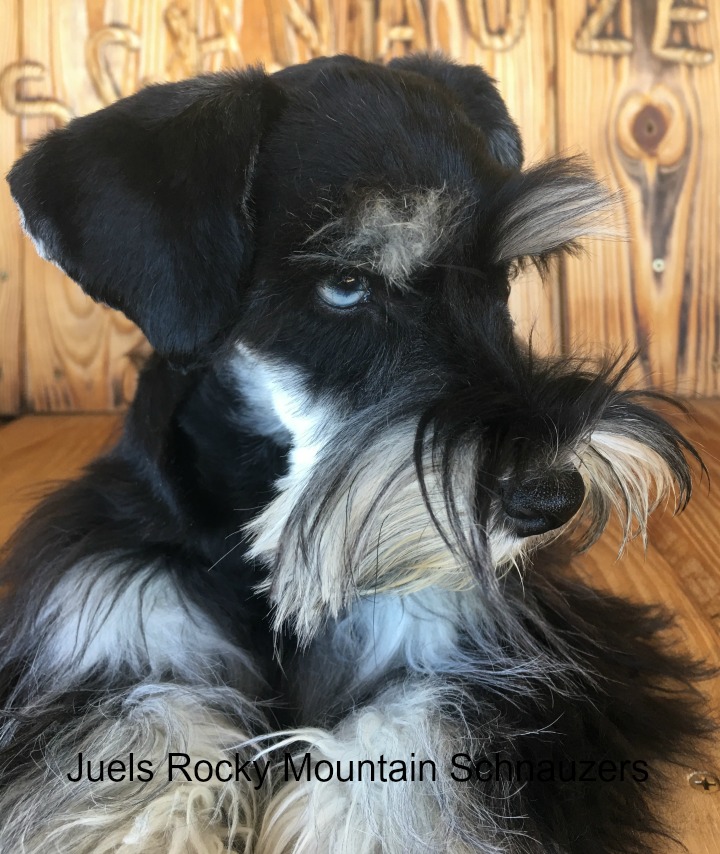 Juel,
I would like to say how happy I am that I found juelsrockymountainschnauzers. We ordered our pup and waited with great anticipation for him to arrive. There is know words to describe what an amazing pup our Murphy is to us. I had a Yorky in the past but so glad I went with a toy schnauzer this time. I'm amazed at what a sturdy little guy he is. Loves to be a lap dog and loves to try and steal our Labradoodles toys right out of his mouth. Murphy is not a yippie dog, but barks at strangers. He has a Mega coat and it's so soft. He is really smart for 12 weeks, Murphy has been sleeping in his crate at night or when we leave him home with no problems.
Juel is amazing breeder! she really pours herself into her puppies. Juel kept us informed every step of the process with texts and pictures. Always answered questions or concerns know matter how often we contacted her. Juel takes great pride in her dogs, she has very high standards as a breeder and it shows in the pups. I can't imagine life with out our little guy Murphy. Even our vet was impressed with Murphy's health.
Jaedin our severe needs kiddo enjoys watching Murphy, I will let him pet Murphy as long as I'm holding him. My grandkids also have one of Juels pups, they both have seizure disorders, Dexter is a huge companion know matter what they need!
I just speak the truth, you have truly blessed us.
These are amazing dogs!!
Thank you Carla Jilek and family
Dexter
---
---
Buddy
Schnauzer Testimonies and Pictures
Hi Juel
We met Buddy when we picked him up at 8 weeks old, 2.5lbs. He seemed like a little guy but was so smart and well socialized. He was meant for us, never fussed or cried. He thinks he's a person.
Buddy is very loyal and very very affectionate. He's very mischievous and athletic. We couldn't be happier with his temperament and the quality dog he is. He is 6 months old and 9.5 lbs and very handsome.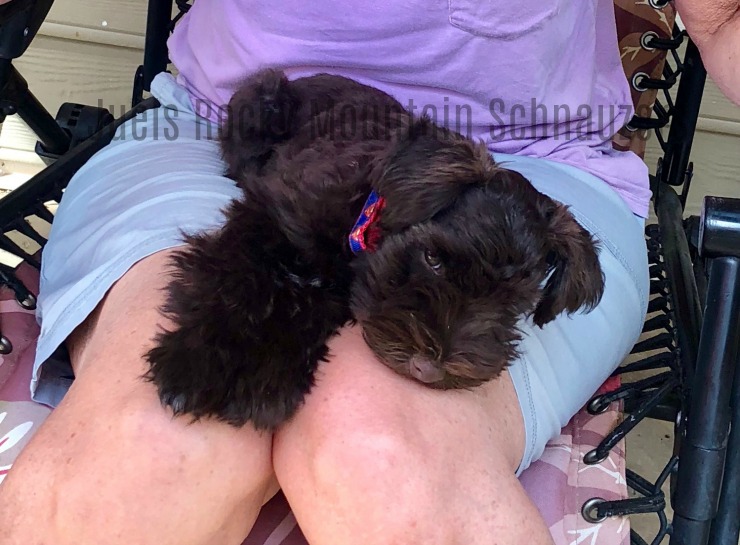 From Liz and Wayne
---
---
Buk and Rue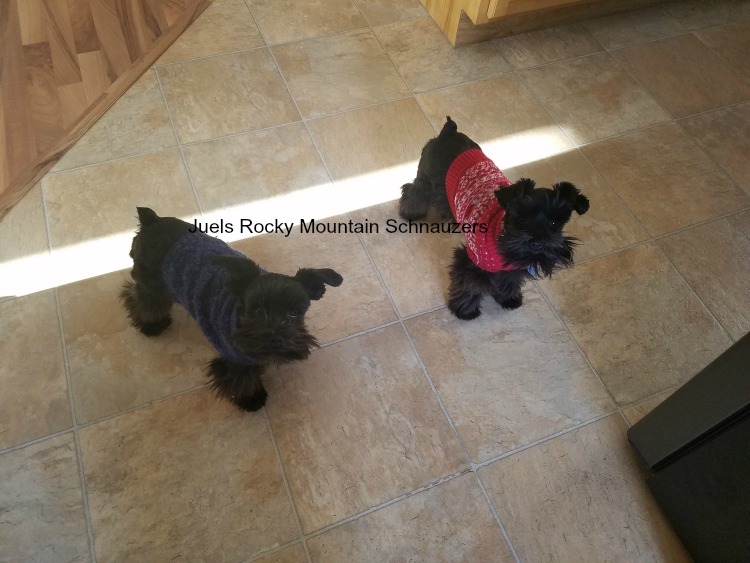 Schnauzer Testimonies and Pictures
This is Buk and Rue updated pictures.
Hi Juel

They are doing great. Rue is as big as Buk. They are just like twins. The last visit at the vet they were over 5 pounds. Buk doesn't hold still long enough for many pictures. Rue is in the red sweeter Buk in blue. They are such cuties. Thanks for checking on us.
Becky Parkins

Buk and Rue are Eleanor's and Theodores puppies out of their last liter!
Buk and Rue are 7 months.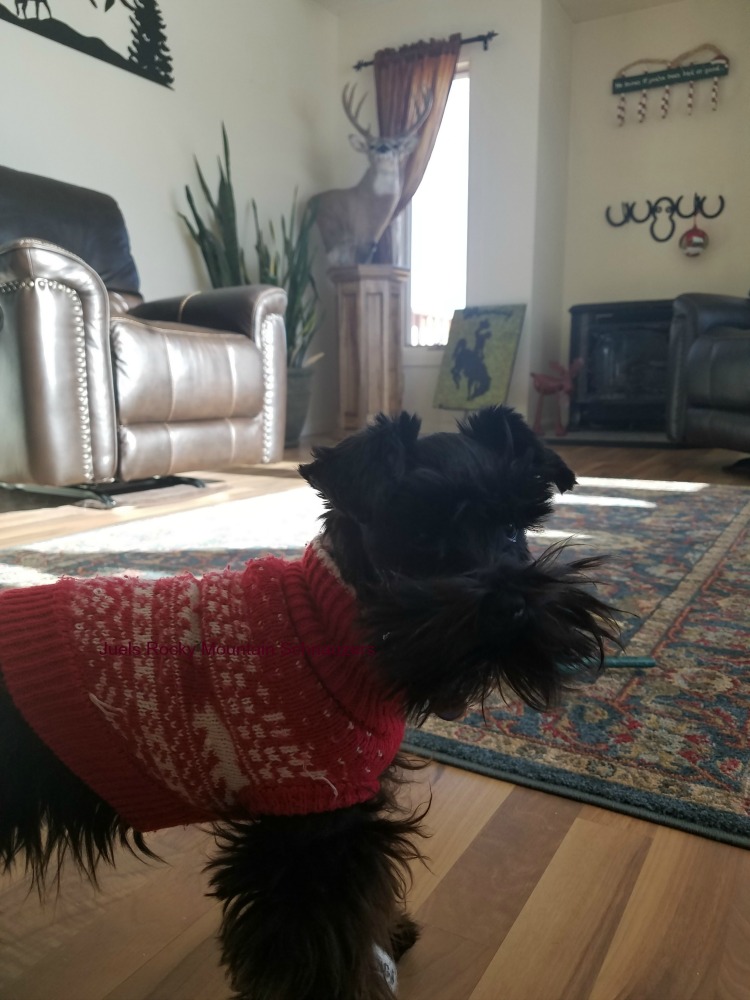 Schnauzer Testimonies and pictures
Becky Parkins

I purchased a tiny little girl I named Rue from Juel 5 months ago. When I got her she was really small but such a cute little girl with a feisty little attitude. I had never owned a schnauzer but after I bought her I learned several things about the breed. They are very smart, they are people pleasers and they are little love bugs. I decided after I purchased Rue from Juel I wanted another schnauzer and bought a little boy puppy I named Buk. These two are so much fun and great companions as they never will leave your side. I appreciate the help I received from Juel in the whole process of buying the puppies, even after I bought them she was great answering the many questions I had. Buk and Rue are very healthy and are a fun loving edition to our family.
Thanks Juel, I would recommend anyone looking for these awesome Little dogs to get a hold of you!

---
Schnauzers Testimonies and Pictures
Christoff
Hello Juel
I am so thankful to have him. He is a great part of my life.
I really enjoy having him. I get compliments all the time well I should say Christoff does because he is adorable!
Thanks again Rick

Rick has purchased his send Schnauzer puppy from
Juels Rocky Mountain Schnauzers Flutter!!

Hi Juel
Flutter is doing great. She is a very special part of my life. I am so happy to have her. I took Flutter to the vet where she was check to be in great health. I am so happy to have her.
Thanks for everything Rick Martinez

Miniature Schnauzer Breeders

---
---
Hi Juel  Squirt is doing great!  Only weighs a little over 2 pounds but is very feisty!  She got a hair cut about two weeks ago and did great!  She goes to work with me everyday. The kids at my work just love her!!!!! 
My two boys argue over who gets to hold her when we are in the car. She eats like a horse but is just small.....  Vet says she is very healthy. 
She has no lack of energy but is also content to cuddle.  We love her!!!!!!!! Jackie Benton

---