Miniature Schnauzers Hypoglycemia
Miniature Schnauzer breeder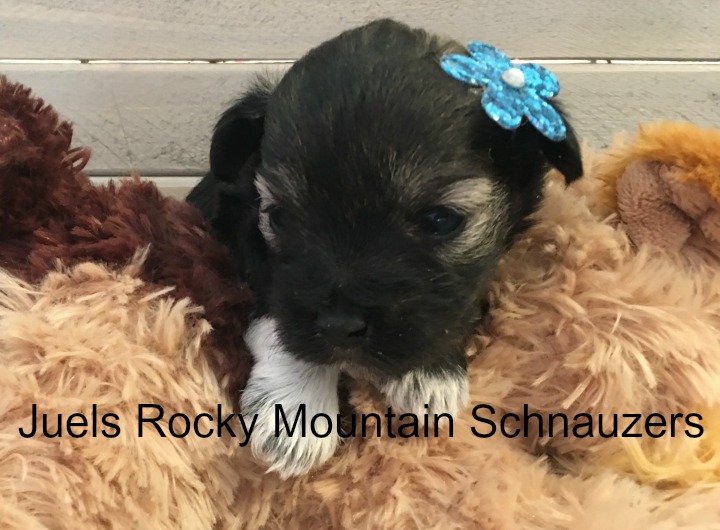 Hypoglycemia is a Nervous System Disorder
Miniature Schnauzers Hypoglycemia

Nervous System Disorder

Hypoglycemia is a nervous system disorder caused by low blood sugar. It happens mainly in small breeds, like Toys and Teacup between 6-12 weeks of age. It's usually caused by puppy being stressed.

Miniature Schnauzers Hypoglycemia
Miniature Schnauzers Hypoglycemia
The first signs are weakness and depression it will come on fast.
Hypoglycemia is accompanied by muscular weakness, sleepiness like having a hard time getting up when awakened, vomiting and possibly diarrhea, tremors. If not taken care of quickly convulsions and coma can occur!

Hypoglycemia
Not always is the process seen.
The puppy my just seem depressed or weak- wobbly. Please be aware. Hypoglycemia can occurs with out much warning sometimes so be aware.

Hypoglycemia! When puppy is flown or placed in a new home. These things put a strain on the energy reserves of the liver and bringing on symptoms.
Puppies should not be weaned on hamburger and other meats because they are likely to develop hypoglycemia.
High quality food is highly recommended!
We use Royal Canin puppy food.
Miniature Schnauzers Hypoglycemia
Unconscious

If puppy is unconscious he or she will have to be given a Dextrose solution intravenously.
Veterinarian may have to treat for swelling on the brain. Feed high quality puppy-dog food.

Puppies and Hypoglycemia
Take puppies Home!

Be sure and take your puppy home right away.
Don't drag puppy around with you for everyone to see.
Have them come to your house and limit them, for the puppy is already been stressed!
Give Puppy a few day's. Your puppy will adjust quickly and be running around.
If not please let me know right away.
Make sure puppy is eating well and has full access to fresh water!
You should monitor your puppies eating and drinking for at least a few weeks to be sure it's going good. Puppies eat every 4 hour when very small.
That also includes night time!
Miniature Schnauzers Hypoglycemia

Hypoglycemia Treatment

If your puppy becomes Hypoglycemia it is very important you react right away.
Give your puppy Nutria-Cal honey or karo syrup Nutria-Cal being your first choose it is a fast acting calorie supplement.
If you use honey you might have to use finger to get puppies mouth open then put on roof of the mouth and under tongue the puppy must take it.
Keep puppy warm at all times they can not regulate their own body temperature at first.
Give the puppy a couple of doses of Nutria-cal put a small amount on tip of finger then get right to the vet.
When I get my schnauzer babies I keep Nutrai-cal on hand.
You can try to prevent Hypoglycemia by adding honey daily to water as a option. 
Mix 2 tablespoons of honey or sugar in 1/2 cup water each day or mix in puppies food.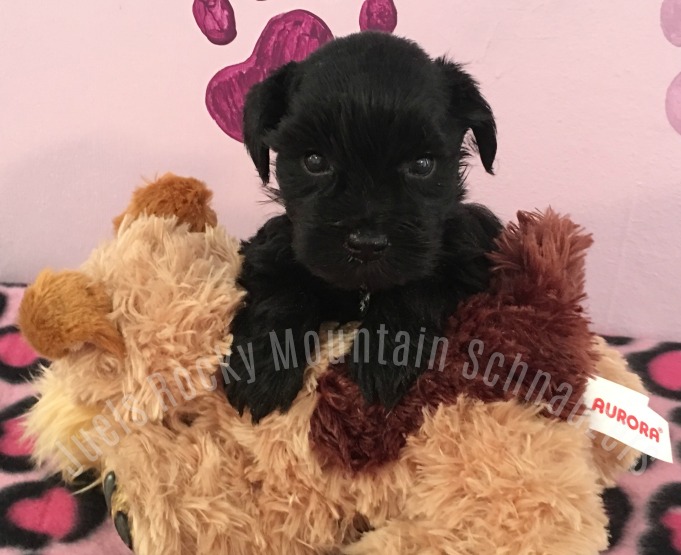 Home
We start our puppies on Nutra Cal a few days before they go to their forever homes to help with blood sugar levels!
We recommend giving Nutra Cal for at least a few days after receiving your new puppy.
It will help!
Please contact me if you have any problems
We will do our best to help you!!

Hypoglycemia usually happens during the weaning process.

Hypoglycemia usually happens during weaning !
If puppy is really small don't let your breeder talk you into taking puppy home to soon'
Find a responsible breeder!!
Some breeders are all about how many puppies they can produce and how fast they can send then to their new homes!!
Thank you for visiting our website!
Please feel free to ask questions that's what we are here for!
Contact information
# 307-247-2913 or email jwyoschnauzers@gmail.com
Thank you Juel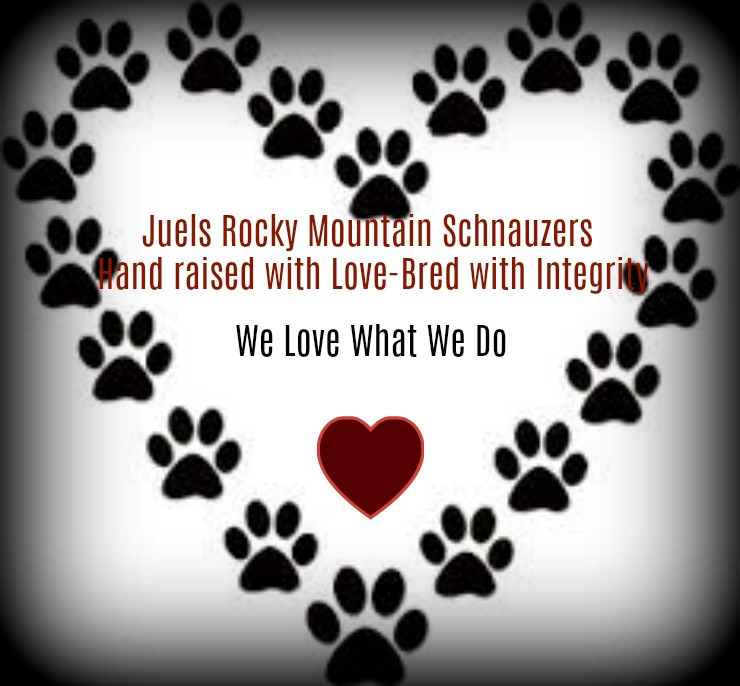 Juels Rocky Mountain Schnauzers
Miniature Schnauzer breeder

Juel Benson All Rights Reserved Copyright 2019