Miniature Schnauzer Puppy pictures
Miniature, Toy and Teacup Schnauzer Pictures
We are proud of our puppies!

We have produced some wonderful puppies - dogs here at Juels rocky mountain Schnauzers from Black to Salt and Pepper and many other beautiful colors all with Mega coats. We do our very best to breed the best quality we can. We are about quality not quantity! Puppies take a lot of care clean crates washing blankets, giving bathing, brushing hair, cutting hair and that's just a few things in having a successful Kennel
American Kennel Club

All our puppies can be AKC Registered.
Puppies are de-wormed at 4-6-8 weeks of age.
vaccinations

Puppies get their first set of vaccinations and are Health checked by a licensed Veterinarian at 8 weeks or before they go home to their forever family's. 

Please enjoy the information we have provided if you have any questions please feel free to ask! I hope you enjoy the Schnauzer puppy pictures!! I will be adding Schnauzer puppy pictures on a regular basics!
All our Schnauzer puppies are Hand Raised with Love and live in the house with us! Our puppies are Very socialized with lots of love.
Miniature Schnauzer Puppy Pictures

Our Miniature Schnauzer Puppy Pictures
---
Miniature Schnauzer Breeders
Miniature Schnauzer Puppy pictures

This is Rue and Buk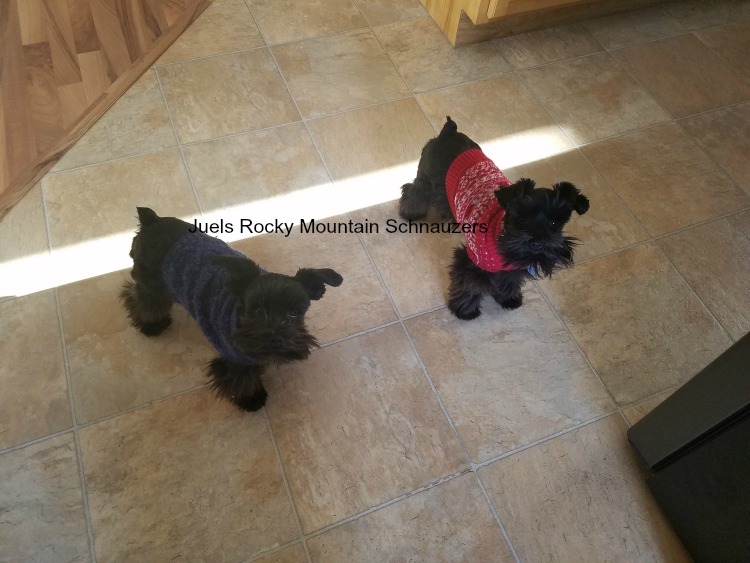 ---
Miniature Schnauzer Puppy pictures
This is Christoff
Christoff is one of Eleanor and Theodores boys

---
This is Flutter

---
Miniature Schnauzer Puppy Pictures
Teacup and Toy
---
One or Eleanor and Theodores puppies

Sold to Elisabeth Penton
Thank you for the most wonderful, lovable boy.
Salt and Pepper boy!

---
Miniature Schnauzer Breeder
Relaxing on the couch

---
One of Eleanor and Theodore's puppies

---
Squirt is one of Jeanette's girls

---
This is Bell Jeanette's girl
Very small

---
What a fun boy at play

This is a little Chocolate girl

---
Christoff when he was a baby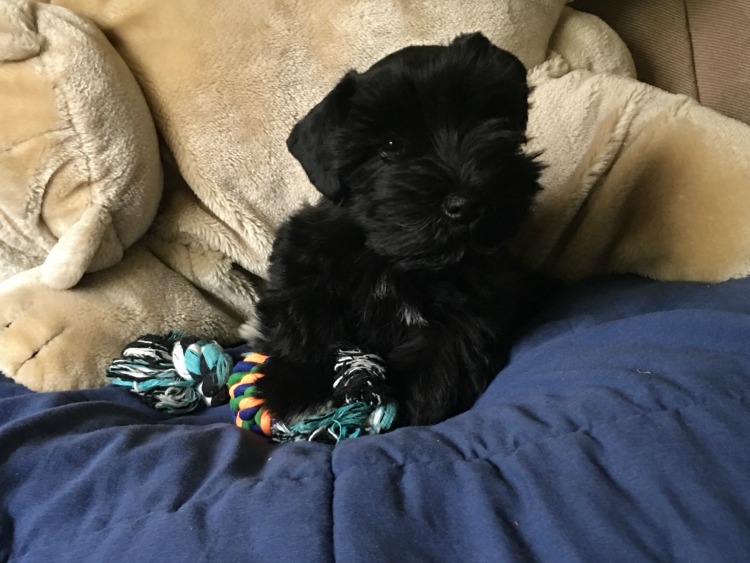 ---
---
Schnauzer Health

Health! We take pride in our puppies-dogs and guarantee the best health possible!
All of our puppies come with a heath check from our certified 
veterinarian.
All puppies-dogs come with their updated vaccinations and dewormed.
Tails docked no later then 3 days after born!
We don't do ears!

We also have a care package and care information that goes home with each puppy !!
All the puppies can be registered with the AKC
I recommend all puppies be registered with the AKC
If lost or stolen the AKC keeps records of each puppy-dog!
My puppies are all hand raised with love

We will be microchipping all our puppies.
We handle our puppies ever day it makes them healthier then puppies left by their self in kennels all day!! :/

Schnauzer Breeder of Miniature, Toy and Teacup Schnauzers
Hand Raised with Love - Bred with Integrity

Juels Rocky Mountain Schnauzers