Miniature Schnauzer puppy pictures
Miniature, Toy and Teacup Schnauzer Pictures
Miniature Schnauzer puppy pictures

These are some of our Miniature Schnauzer puppies pictures.
We have produced here at Juels Rocky Mountain Schnauzers.
American Kennel Club

All our puppies can be AKC Registered.
Puppies are de-wormed at 4-6-8 weeks of age.
vaccinations

Puppies get their first set of vaccinations and are Health checked by a licensed Veterinarian before they go home to their new forever family's. 

Please enjoy the information we have provided if you have any questions please feel free to ask! I hope you enjoy the Schnauzer puppy pictures!! I will be adding Schnauzer puppy picture monthly! All our Schnauzer puppies are hand raised in the house with us. Our puppies are Very socialized with lots of love !
Miniature Schnauzer puppy pictures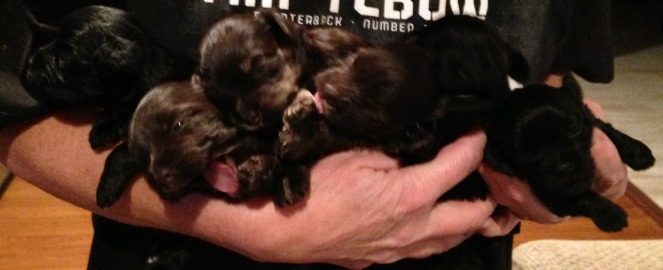 ---
Miniature Schnauzer Breeders
Miniature Schnauzer puppy pictures

This is Buk and Rue updated pictures.
Hi Juel

They are doing great. Rue is as big as Buk. They are just like twins. The last visit at the vet they were over 5 pounds. Buk doesn't hold still long enough for many pictures. Rue is in the red sweeter Buk in blue. They are such cuties. Thanks for checking on us.
Becky Parkins
Buk and Rue are Eleanor's and Theodores puppies out of their last liter!
Buk and Rue are 7 months.

Miniature Schnauzer puppy pictures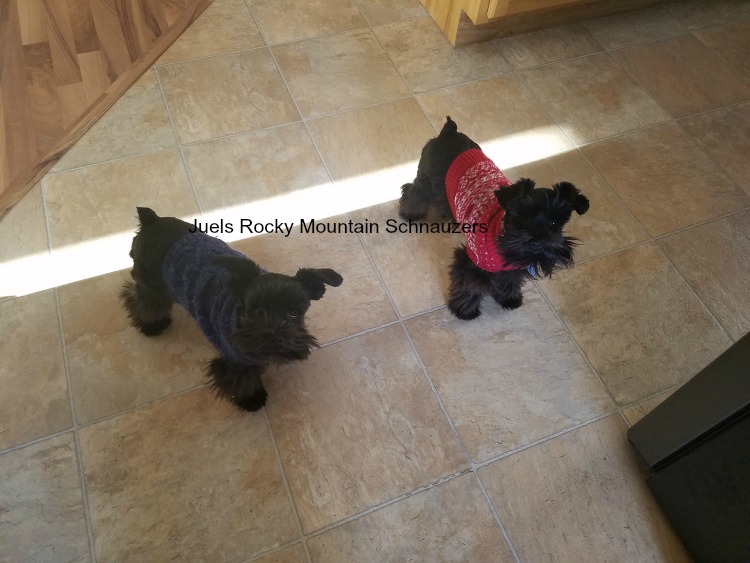 Becky Parkins

I purchased a tiny little girl I named Rue from Juel 5 months ago. When I got her she was really small but such a cute little girl with a feisty little attitude. I had never owned a schnauzer but after I bought her I learned several things about the breed. They are very smart, they are people pleasers and they are little love bugs. I decided after I purchased Rue from Juel I wanted another schnauzer and bought a little boy puppy I named Buk. These two are so much fun and great companions as they never will leave your side. I appreciate the help I received from Juel in the whole process of buying the puppies, even after I bought them she was great answering the many questions I had. Buk and Rue are very healthy and are a fun loving edition to our family.
Thanks Juel, I would recommend anyone looking for these awesome Little dogs to get a hold of you!

---
This is Christoff
Christoff is one of Eleanor and Theodores boys

Miniature Schnauzer puppy pictures
Christoff
Hello Juel
I am so thankful to have him. He is a great part of my life.
I really enjoy having him. I get compliments all the time well I should say Christoff does because he is adorable!
Thanks again Rick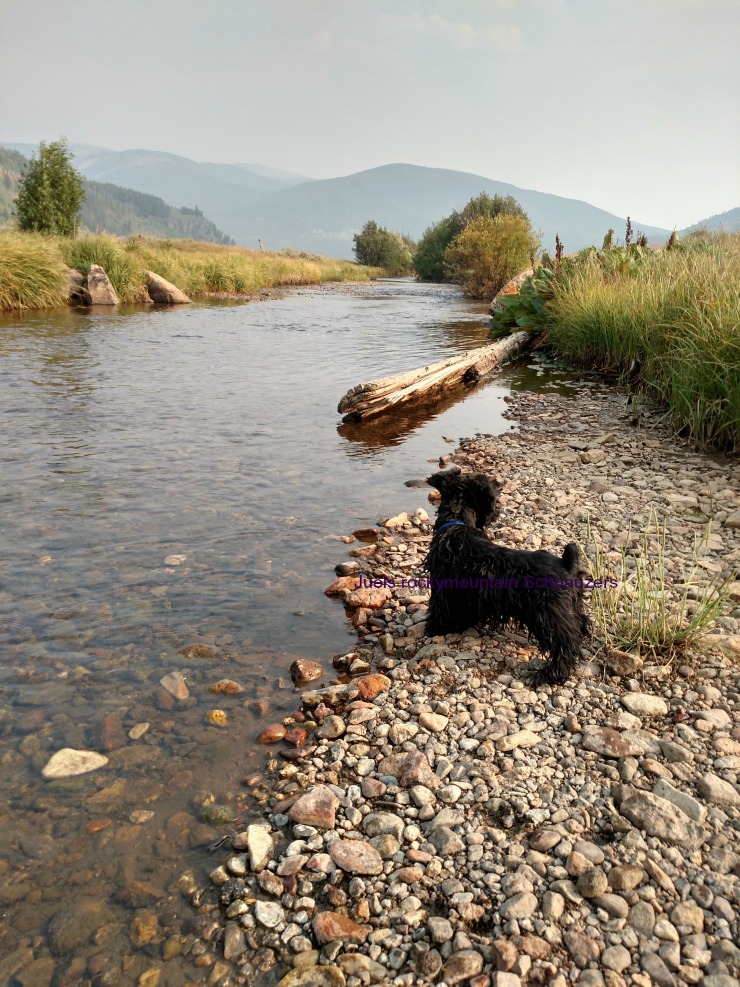 ---
This is Yoda! He is Salt and Pepper.

Hi Juel I just wanted to send you an update on Our lil guy. He's doing great! He is the sweetest dog ever. He loves being outside, playing fetch and just being around us. He's growing like crazy. He's 5lbs now and is getting bigger everyday. He's practically potty trained, we have occasional accidents but nothing frequent. His favorite place is to sleep on my neck, and just snuggling with us. His color hasn't changed much either. He's just as handsome as the day we got him :) We've all adjusted well and couldn't imagine life without him.
I have a coworker who's interested in possibly purchasing from you when you have a puppies again. If you don't mind getting ahold of me at the time I'll direct her to you. Thank you so much!

Kerra Young

---
Miniature Schnauzer Puppy Pictures
Teacup and Toy
---
One or Eleanor and Theodores puppies

Sold to Elisabeth Penton
Thank you for the most wonderful, lovable boy.
Salt and Pepper boy!

---
---
Miniature Schnauzer Breeder
This is Kenobi
Thank you Jill

Hi Juel
We wanted to tell you how much we are pleased with our little guy he is all we could ever ask for! He keeps us on the go but is the best snuggle bug!
Kenobi loves to play but also will snuggle as long as you let him

I also want everyone to know what great help you where in answering all our questions in receiving Kenobi and even after he came to us!
Our vet said he is a very healthy little guy.
Thank you for such a wonderful little boy!
Jill 

---
This is Leah

Hi Juel
Leah is the sweets puppy we have ever owned, can't tell you how excided we are to have her in our family! She just loves to snuggle us and play with our kids.
Thank you so much Sarah

---
One of Eleanor and Theodore's puppies

This is Bridget the midget she is so awesome !! We love playing with her she is a snuggle bug!
She has the best personality ever !!

---
Hi Juel  Squirt is doing great!  Only weighs a little over 2 pounds but is very feisty!  She got a hair cut about two weeks ago and did great!  She goes to work with me everyday. The kids at my work just love her!!!!! 
My two boys argue over who gets to hold her when we are in the car. She eats like a horse but is just small.....  Vet says she is very healthy. 
She has no lack of energy but is also content to cuddle.  We love her!!!!!!!! Jackie Benton

Squirt

---
Pictures of Midnight

Hi Juel

Midnight is a sweet little girl with a big personality
We just love her very much. She is our dream for a puppy!
Can't tell you how happy we are to have her in our family.

Thank you!!!

---
This is Turbo!
Turbo is a fun loving puppy, with lots of love for everyone!

This is Simon he is our boy here at Juels rocky Mountain Schnauzers!
Wonderful boy!

We kept Bridget here at Juels Rocky Mountain Schnauzers
Schnauzer Health

Health! We take pride in our puppies-dogs and guarantee the best health possible!
All of our puppies come with a heath check from our certified 
veterinarian.
All puppies-dogs come with their updated vaccinations and dewormed.
Tails docked no later then 3 days after born!
We don't do ears!

We also have a care package and care information that goes home with each puppy !!
All the puppies can be registered with the AKC
I recommend all puppies be registered with the AKC
If lost or stolen the AKC keeps records of each puppy-dog!
My puppies are all hand raised 

We will be microchipping all our puppies.
We handle our puppies ever day it makes them healthier then puppies left by their self in kennels all day!! :/

Schnauzer Breeder of Miniature, Toy and Teacup Schnauzers
Hand Raised with Love - Bred with Care

Juels Rocky Mountain Schnauzers