Theodore toy schnauzer  




Theodore is a wonderful boy




Theodore toy schnauzer
Theodore toy schnauzer is one of our amazing boys in our breeding program
Theodore is AKC registered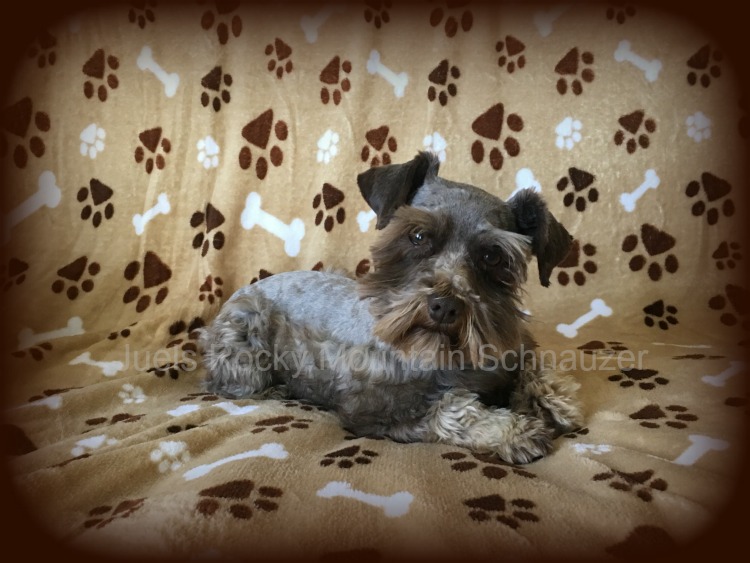 Miniature Schnauzers Breeders
We love what we do!

Theodore was hand picked for our breeding program! He came from a breeder with great blood lines!

   Juels Rocky Mountain Schnauzers 
Theodore has one of those loving personality's and is a beautiful boy with the most beautiful coat so very thick and soft. He has produced some awesome baby puppies! His puppies colors range from salt/pepper, Liver/pepper, liver and also Black!

 Check out our puppies available page

All about our Miniature Toy Schnauzer 
Theodore
Theodore is a handsome little guy! He is liver and has a mega coat so very thick and beautiful. Theodore weighs in at 8 lbs. He is toy in size. Theodore has the best personality very calm and loving, but he's also very playful and outgoing. He loves everyone. Theodore has his very favorite ball he loves to play with and it goes every where he goes! what a fun little guy. 
Theodore has been DNA certified by the AKC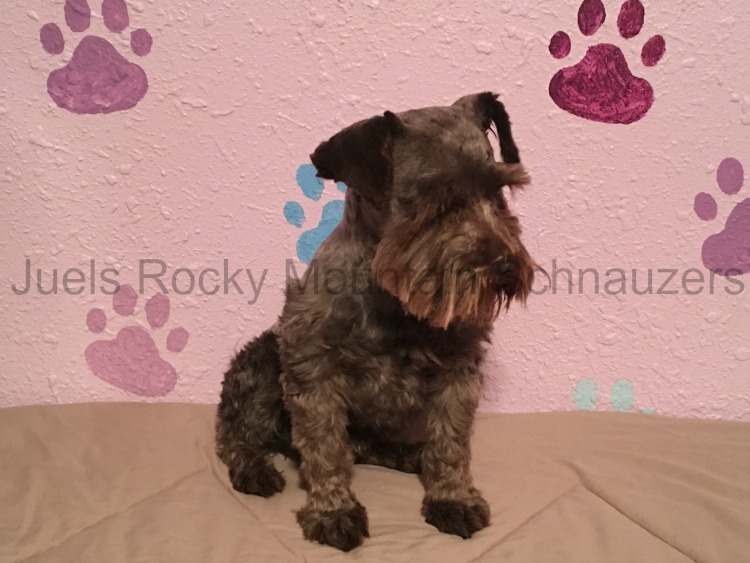 Miniature, Miniature Toy and Miniature Teacup breeders
 Miniature Toy and Teacup Schnauzers adapt to their new homes very fast. 
Theodore loves to snuggle he is quite the little snuggle bug!! He is also very playful and is very obedient. I have taught him how to wait, sit, down, stay, leave it, in, out, stop, no and of course come.
Schnauzers of all sizes are very smart and learn fast! Theodore loves going for walks on his leash.
Schnauzers are happy where ever their loved apartment or the country.
Schnauzers get sad if not loved each day!!

Theodore toy schnauzer
What a Handsome little guy!!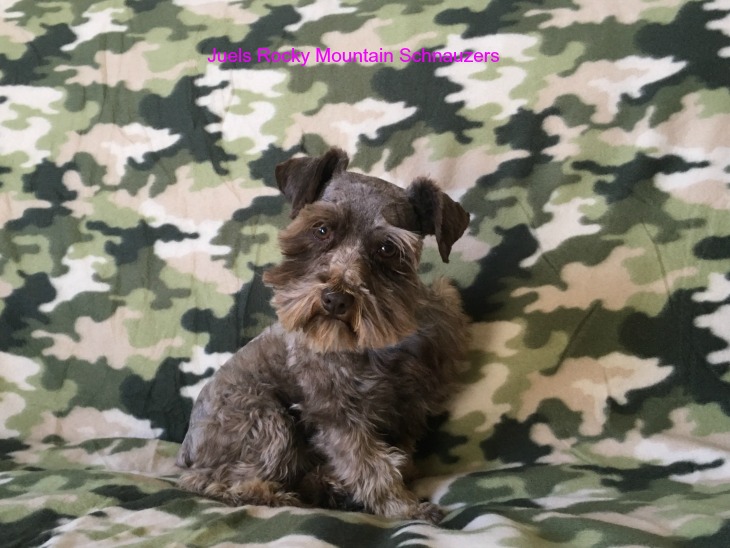 Theodores puppy Pictures!
What a cute little guy!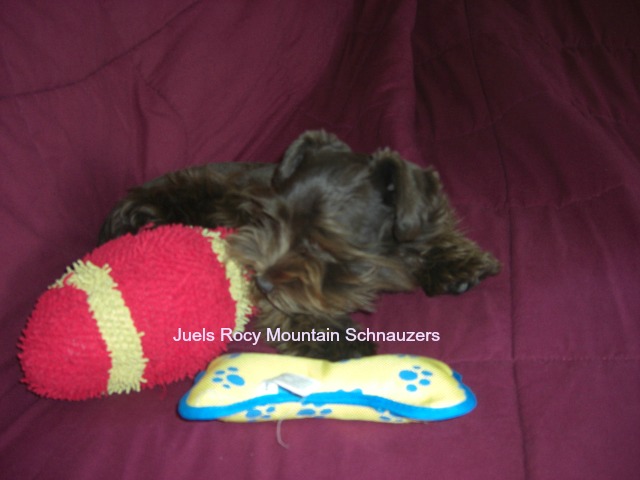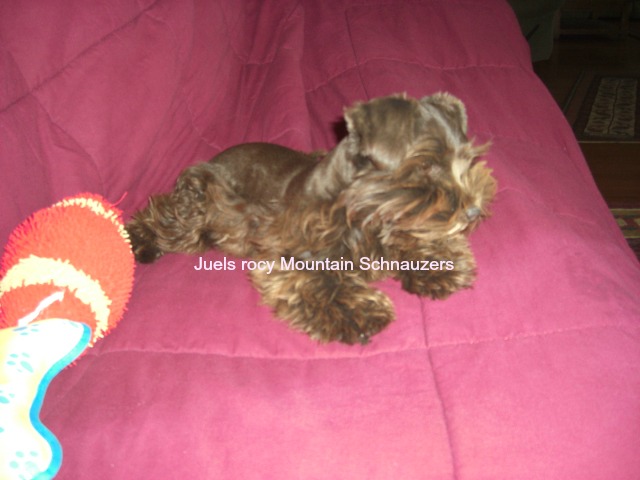 Miniature Schnauzers
We take pride in our puppies-dogs and guarantee the best health possible! All of our puppies come with a health check from our certified veterinarian.
We don't do ears!

All puppies-dogs come with their up to date vaccinations, dewormed. Tails docked no later then 3 days after born! We also have a care package and care information that goes home with each puppy !!

 Our Schnauzers are bred in health, demeanor, trainability and conformation.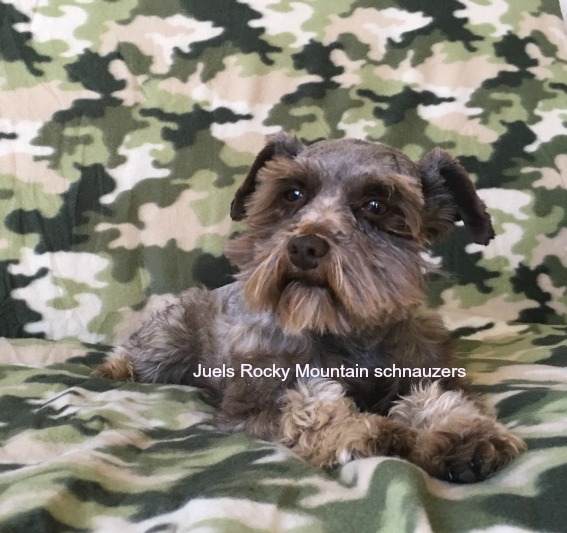 Miniature, Miniature Toy and Miniature Teacup Schnauzer Breeder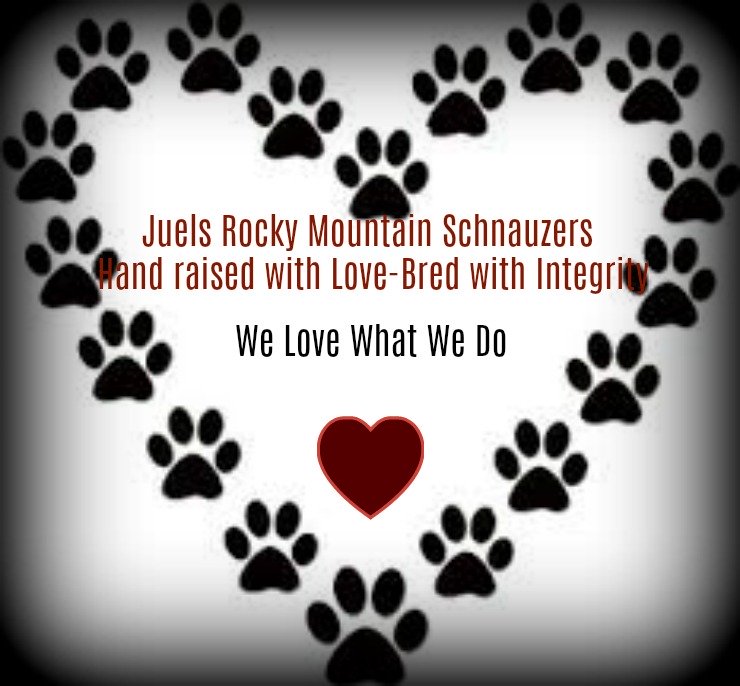 Contact information
 For more information or questions please contact us at
307-247-2913 
juelsrockymountainschnauzer.com
Miniature Schnauzer breeders of Wyoming
 Thank you Juel Benson

Theodores page

Juel Benson All Rights Reserved Copyright 2019